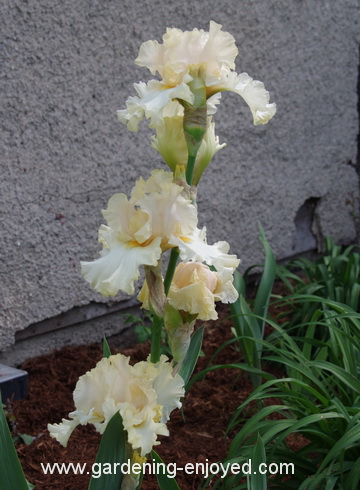 This magnificent Iris is blooming on a Thursday but it is a week early. Why a Thursday? Because our local Iris show happens on Wednesday and it seems that a perfect candidate for Best In Show always opens on Thursday. By show day next Wednesday it will surely be past its peak. I can only hope another variety will look as good on show day. No, I don't know its name. Iris move around my garden regularly and having their labels follow them doesn't appear to be one of my skills and there are too many of them to remember. Regular readers will be well aware that the Iris is my favourite flower and that makes these 2 - 3 weeks the best time of the year. They are beautiful, great photography subjects and most have a lovely fragrance. They also make quite spectacular cut flowers for the house.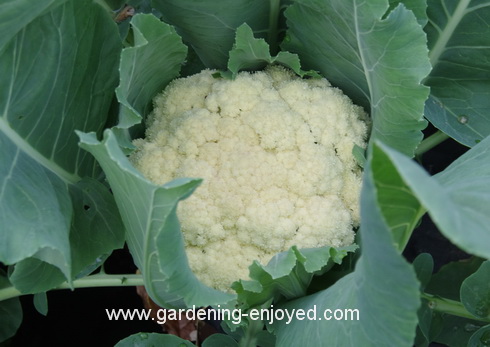 The Asparagus is finished for this year just in time for a wealth of other veggies to replace it on the dinner plate. Although she loves the Asparagus, the Assistant Gardener will now be very happy as Cauliflower is her favourite vegetable and this one is certainly ready for the dinner plate. If I have the time to make a cheese sauce for it then dinner time will approach perfection. This particular Cauliflower is a called a sprouting Cauliflower as the head naturally opens up producing individual florets on short stems. Before the heads reach this size I will will have tied the outer leaves together over top of the head to keep the sun from it. The sun will discolour it and that also gives it a more bitter taste.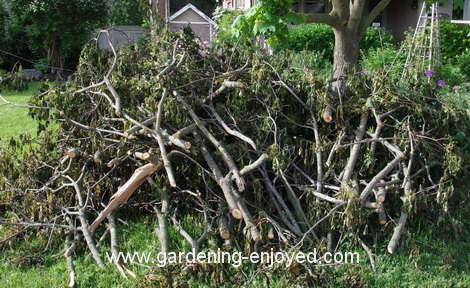 Any of you who live in S. Ontario will certainly remember the wind storm. We are just far enough south to have escaped the worst of it but the neighbours large maple did split in half and land on my driveway. We were in Newfoundland that weekend but our son did manage to clear it up and pile at the roadside where the Town will eventually get around to picking it up. It did bend over a Tree Peony but it is still blooming beautifully although in a bit of an awkward shape.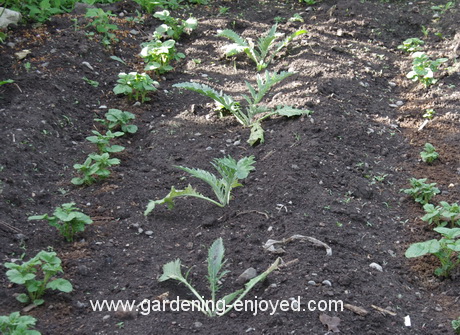 Now this is a real experiment. Between the two rows of Potatoes is a row of Artichokes. They are actually a perennial but not in our climate. There are now a couple of varieties that are supposed to flower in their first year and Imperial Star is what I'm testing here. The Artichoke that we eat is just an unopened flower bud so that's as far as they have to develop to be useful. They are quite large plants and that's why they are between the rows of Potatoes, my theory being that they will grow tall enough to be above the Potato foliage. They are looking good in this picture but they have been struggling to get established in the unseemly warm weather of the last few days. Updates to follow.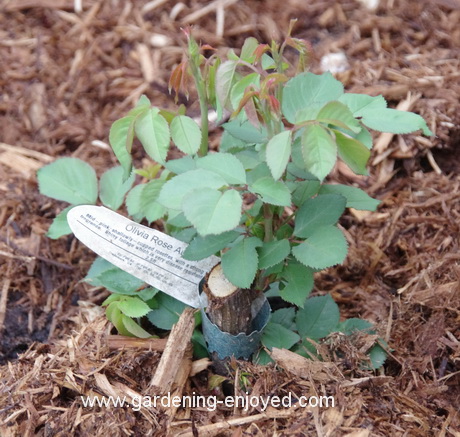 This scrawny little Rose is actually good news for me. As I try to downsize my gardens I have tried moving a few established David Austin Roses and this one, Olivia, is a wonderful one. The fact that she is even growing is what's exciting. I don't expect any blooms this year but have great hopes for the next years. She was dug up in the fall just as her leaves were starting to fade and fall and she came out with minimal roots partly because Roses are very deep rooted plants and it is difficult to get down to many of her fibrous roots. I have transplanted four of them and they all appear to have survived with some looking much better than others but we are thrilled that they are showing any signs of life.



Salads, salads, it's that time of year and we have Lettuce in abundance. This is Skyphos a great crisp head lettuce with the amazing colouring that you can see. My source was Stokes Seeds. It is growing in one of my sub irrigation containers where Lettuce does extremely well. The loose head that is forming has a nice, slightly crunchy texture and a great flavour. Like many things, I should spend more time and sow just a few seeds every two weeks so that we don't have such an abundance at once but that seems to take more organization than I appear capable of. Luckily this variety is also slow to bolt so it will be in harvestable condition for some time.




We have started doing our presentations in person again and it is wonderful to have a live and responsive audience again. If your group is looking for an interesting and entertaining speaker then check out these topics

If you just hit reply to this email you can ask me questions and I will attempt to answer them.