The Poinsettias are blooming. The Amaryllis have all been potted up, except 3, The deep snow is providing a wonderful winter cover and protection on the perennial beds and will make up for the great lack of moisture in the soil after this summer's drought. Time continues to fly by, as I hit the save button, on this newsletter and realize that the last one was almost a month ago. The Christmas season seems to eat up time even faster than the gardening season.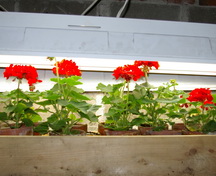 The geranium cuttings under the lights in the basement have flourished and I had to reduce their size. Can't throw away anything of course so I now have another batch of rooted cuttings to pot up. At this rate the entire garden will be done in bright red Geraniums next year. Of course I will very soon run out of room under my lights and will have to find space to set up the next set of lights. Somebody offered me one of those three tier commercial light stands and why would I say no. I don't really have enough space without a significant reorganizing of the basement; that's why I should have said no. It will go up and the geraniums will find a home.


The Brussel Sprouts are peeking through the snow in the garden. Waiting for a couple of frosts, in order to sweeten their flavour, got me an early 30 cm of snow over the 40 cm plants. I'll have to trudge out there with a broom, a shovel and a few other tools and see if I can rescue them. There are a few other very sad looking, late winter, veggies marking the outline of the garden and hopefully they will self compost before spring. The parsnips will be the first spring vegetables this year because I cannot find them at the moment. Luckily they are just fine in the spring, as long as I get them dug up before they start next year's growth.


The Hibiscus, wintering at the top of the stairs, was rather severely adjusted for size before it came indoors this fall. Nonetheless it has a bright red flower on it today and last week it had five flowers open on one day. Sure does brighten up the week, especially as tomorrow is the shortest day of the year and winter officially starts. Give your friends plants for Christmas. That Hibiscus was a gift a couple of years ago and its flowers in the dead of winter remind us of the friends who gave it to us and who brighten our lives.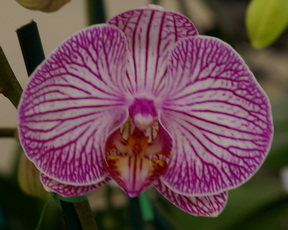 The Phalaenopsis orchid that was given to a friend last year, was returned to me when it stopped blooming. It summered outside and it is now sitting on the kitchen counter throwing 2 new bloom stalks. Moral dilemma?? When it is in bloom do I return it to the friend who originally received it or enjoy it myself? I wish I could send you to a page on Gardening-enjoyed where all of the secrets of reblooming Orchids are revealed. At this point it was just dumb luck. The research will follow as soon as I can locate the Orchid book that I found at a book sale last summer.


My best gardens are materializing again. The seed catalogues are piling up in the corner of the office and I wander through them dreaming of all the wonderful things I'm going to grow next year. There is no digging and no weeding involved in these winter dream gardens and the plants always perform beautifully. Why don't I just stay indoors and dream all year round. There is that absence of fragrance and taste and the feel of fertile soil running through your fingers. I will continue to read and dream for a few weeks and then cut my lists down to reality, which always seems to be about twice as much as I actually have room for. Of course with that second light table???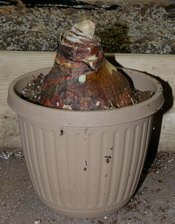 I will take the catalogues with me on the airplane. Oh yes! We are heading to the other side of the country for the holidays. There are three granddaughters there. You were wondering why I didn't pot three of the Amaryllis bulbs. Large fast growing flowers, keen and eager gardening novices, a grandfather to show and tell them of the wonders of Amaryllis and gardening in general, sounds like the perfect Christmas to me. Did I mention that there is a ski mountain nearby and all of the girls will insist that I go skiing with them. I'll try to find the time.


To all of my Dallying In The Dirt readers; I wish you the very best of the Christmas season and may the peace and joy that we find in our gardens spread throughout the world in 2008.


Questions
My newsletter subscribers get to ask me questions. Just 'reply' to the email newsletter. It is always interesting to read the questions; mostly to see if I actually can answer them or if I have to wade into the textbooks to research the answers. If that happens then we all learn something.


Lynn asks? I'm growing Amaryllis for the first time this year. Can I keep them growing to bloom again next year.

Ken answers! What a timely question. Just follow the link at the top of the newsletter and all will be revealed.


111 Trent St. W.
Whitby ON
L1N1L9