Hampton Court Flower Show 2008
It Rained. Still Amazing
It rained! Then it rained some more!
Apparently there were records set for rainfall that day but it did not deter the Hampton Court crowds. The hardy British gardener was there with wellies, slickers and umbrella. The flowers and gardens were there to receive and delight the sodden curious. We two hardy Canadians slopped through the deepening puddles and tried to see as much of this huge show as possible in the day that we had. It's not possible.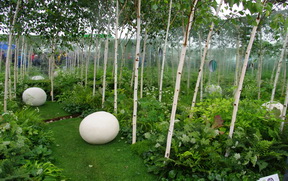 Outdoor Inspirations We started in the outdoor display gardens where the best of British Garden Designers show off their skills. The amazing range of gardens that can be created in a rather small space, by Canadian standards, kept us constantly in awe. The new camera was touted as being quite water resistant and it was as it was hauled out from under my slicker close to 400 times that day. One of the first gardens we saw is one that stayed in our memories. A very simple green and white motif using grass, white rocks, Birch trees and green and white flowers and foliage, with the three closed sides, completely covered in mirror. The garden became much larger, the mirrors turned and changed and the paths and multiplied the trees as well as relocating them as you changed your viewing angle.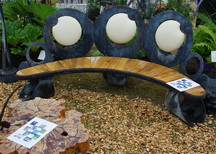 Retail Therapy! There were whole avenues of smaller tents and booths where a multitude of vendors were offering everything from balls of string to a set of 12 teak chairs with table for purchase. Knowing that we were unable to transport any of this we tried to skim by most of them but were frequently arrested in our dash through the rain by some innovative design idea. Capture it on film and bring the idea home, if not the product. Even harder to ignore were the booths of the Nurserymen. We pushed ourselves through the rain in the certain knowledge that we wanted at least 100 of the new varieties on offer and that they would never make it home.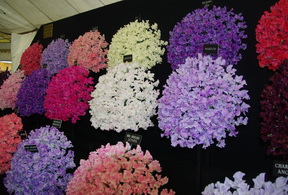 Dazzling Marquees We would frequently become so weary of the constant deluge that we would escape into amazing marquees. These huge tents, think of covering a couple of football fields with about 6-7 tents, are the place where a humble Canadian gardener just stands in awe at the entrance. The sheer number of gardeners here, fosters and supports a wide range of specialty nurseries. Think of a 40 foot booth that consists of nothing other than a wall of Sweet Peas. Each variety displayed in a basket of several hundred blooms. Now repeat that for many more types of flowers, plants, fruits and vegetables. The next marquee just repeats the process with more varieties.


British Gardeners!At the end of most of these walls of flowers, the vendors are selling their products and the British gardeners are buying and filling their buggies. As we dodged our way through the crowds, and there were crowds, a fold up square box on wheels with a handle could be expected, trailing behind every third person. A miniature garden of blooming Roses and Clematis and new Hosta varieties was slowly growing in each of these shin busters. There was even a booth selling the buggies just in case you had forgotten yours.



Roses There are trees and bushes and covered pergolas and baskets of blooms; all of which only exist in a Canadian Rose growers fantasies. A whole marquee is devoted to Roses. A 10' square filled with bloom covered bushes of a rich lilac coloured rose captivates us the moment we are near it. Lucky is the 'rose of the year' for 2009 and the nurseries that have it want to make sure it is in your garden.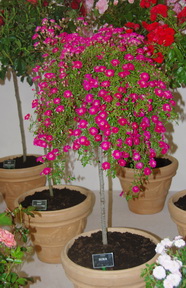 Rose Dreams A booth filled with many varieties of big and little roses, grown as standards simply made a jealous Canadian gardener think of the ways he might devise to overwinter such delights.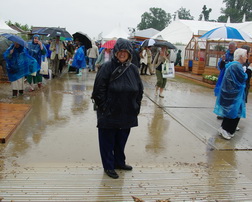 Can It Get Any Better?Out the other side of the marquee, through the deepening puddles, on to even more inspired gardens, went the intrepid Canadians, desperately trying to store the inspirations and think of ways to replicate them in a somewhat different climate. No amount of rain or ski hill slippery turf could prevent us from contemplating a return to Hampton Court, the worlds wettest flower show.