Ken is an entertaining and knowledgeable speaker
on several subjects horticultural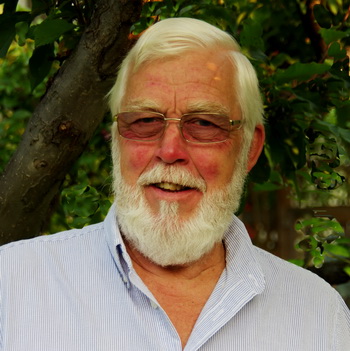 Ken Brown is a frequent speaker at gardening events and garden club meetings. His presentations are first and foremost, entertaining because he understands that people will remember the ideas that are presented in a lively and humorous manner. Contact him here for availabilty and rates. See the list below for the presentations that are available.


Joyce from Canada Blooms has this to say about Ken's presentation

Ken, you did it again!
Thank you so much for giving the Blooms audience a dramatic 'very Ken' presentation that was packed with useful tips and solid information. They just loved it! I don't know how you manage to keep it so fresh and keep 'em coming back for more! But you certainly do, Ken.
It is always a delight to see you again and hear you present.

From the Creemore H.S. "Many of our members have commented enthusiastically to me. You might be happy to hear that your presentation is definitely in the running for THE BEST presentation our Horticulture Society has ever experienced. We hope that we will be able to capture you again some time. " and "It was a wonderful and inspirational hour and I speak for many of us veggie fans when I say we could have listened to you easily for another hour!"

Michelle - City of Pickering " I still have staff and Pickering residents telling me how much they enjoyed the vertical vegetables presentation this past spring. Many Pickering staff are growing vegetables for the first time, including me!"

Etobicoke Horticultural Society "Your presentation probably had more useful information per minute than any we have ever heard!"


Upcoming Speaking Engagements

Here is a list of my upcoming speaking engagements. All of my talks are now virtual on the Zoom platform which means that distance is no longer a problem.  Hopefully we will return to live presentations soon.

09 November  2022 Northumberland M.G.  "3+1 Tenors"
06 February  2023 L.O.   "There are no Houseplants"
23 February  2023  L.O.  "Bugs and Diseases"
02 March  2023  L.O.  "Shade Gardening"
09  March  2023   L.O  "Shrubs"
15 April  2023   Maxville H.S.  "3+1 Tenors"
18 May 2023   Trenton H.S  "Shade Gardening"

Ken's Great Presentations

Garden Seduction

A general interest presentation where Ken allows his passion for all things horticultural to flow out to his audience. With anecdotes, facts, a wealth of experience and a generous sprinkling of humour, Ken entices even the blackest of thumbs to want to go out into the garden and partake of all of its benefits and pleasures. Participation in things horticultural can have positive benefits in so many aspects of our lives and Ken enthusiastically identifies and demonstrates how we can all improve those lives by spending some time Dallying in the Dirt.
Vertical Vegetables

A presentation aimed at home owners and balcony dwellers who have a hankering for the taste of a fresh vine ripened tomato. Drawing on his years of experience growing a wide range of vegetables under various conditions, Ken enthusiastically draws people out of their living rooms and into their yards and shows them how they can grow amazing things in tiny spaces. Ken tosses out the normal concept of a vegetable garden and demonstrates how the colours and textures of food producing plants can also add to the aesthetic appeal of a garden. Ken employs a range of innovative, yet simple and inexpensive, ways to utilize the vertical space above our gardens to multiply the quantity and range of tasty foods that we can grow.
Putting The Garden To Bed.

An informative and entertaining look at the autumn gardening season, where Ken outlines the many enjoyable activities that engage him in the garden as the weather cools and the days grow shorter. Bountiful harvests, new plantings, fresh blooms, the excitement of bulb planting and eventually the preparation for winter's blanket of snow.


Spring Flowers

We all admire a hillside filled, in the spring, with a host of waving daffodils. We all yearn for a tiny crocus to bloom through the snow to indicate that winter is finally leaving the land. There is a tremendous range of spring flowers that grow from fall planted bulbs and Ken walks you through the springtime calendar revealing how his garden blazes with four months of colour from a couple of autumn weekends spent Dallying in the Dirt. Ken's back remembers planting several thousand bulbs in his gardens over the years and he humorously infects all of his audience with his enthusiasm for this amazing group of flowers.
Growing Plants From Seed

In this presentation Ken draws the average gardener deeper into the joys of horticulture. Everyone who has ever wished for a wider range of flowers and vegetables to plant into their garden will find the answer to their dilemma by perusing the seed racks and catalogues. Ken removes the mystery of starting your own plants from seed by revealing the tips and tricks that horticulturists use to successfully turn a packet of dry, lifeless appearing, seeds into healthy young transplants for our spring gardens. A lifetime of successes and not a few failures have left Ken with host of interesting and often humourous anecdotes and ideas that will have his audience rushing to their basement light tables to Dally in the Dirt in the dead of winter.
The Three + 1 Tenors

Iris, Peony, Daylily and Lily are the four powerful perennials that should be the backbone of any perennial garden. Ken usually has at least a hundred Iris varieties in his garden and he allows several of the other three some of the left over room. There is no doubt in Ken's mind that the Iris is the Queen of the perennial garden with its fabulous blooms but they do not last forever and their foliage is not their best feature. By adding Peonies and Daylilies to his garden Ken extends the flowering season and introduces some other colours and foliage. In this presentation, methods of propagation and planting, and a look at the care and feeding of these wonderful plants, are sprinkled through an overview of their amazing range of sizes, colours and textures as Ken humorously shares with his audience, his enthusiasm and affection for these horticultural delights.
Garden Photography

Ken sees his garden as one large studio where he creates stories and pictures for his articles and presentations. The blend of art and science that produces a good garden photograph is something that requires throwing away the miles of film that taught us how to learn from our mistakes. Over the years, the ratio of keepers to rejects gradually improves. Ken uses this presentation to help his audience waste less film and/or megapixels, and as a way of humourously utilizing some of those bad photographs, as examples of things that his audience should avoid. Ken demonstrates how to use and control the interplay of light and colour and texture to capture the essence of single flower or the magnificence of a mature garden.
Garden Design

A garden should seduce you and draw you into it's deeper reaches with the promise of discovering its innermost secrets. Ken's years of planning gardens large and small make this presentation of great interest to all gardeners. A garden is never finished and everyone is looking for ways to add interest and excitement to their own little space. Ken uses his enthusiasm and humour to suggest new planning insights, and tips and tricks that everyone can use to turn their gardens, new or old, into more interesting and seductive spaces.
There are no House Plants

Ken uses his years of experience in the indoor landscaping business to illustrate that a knowledge of a plant's natural habitat, (and that's never indoors,) is beneficial when trying to make that plant thrive, or at least survive, in our homes. Understanding the role of light and water and the recognizing of a variety of pests are the essential elements which Ken illustrates to help his audience become happier indoor plant parents.

Shade gardening

The Impatiens have disappeared and the Begonias have arrived. Gardening in the shade has become more important as the density of our housing creates more shady spots in our gardens. Ken will guide you through the many wonderful plants that are available to brighten that shady spot in your yard. Bright flowers, amazing foliage and even a few vegetables are happy to thrive those darker corners. The amazing diversity of Begonias alone, could keep a gardener happy in their shady corners for many years. Both annuals and perennials are on Ken's list of shady stars that can enhance the cool relaxed feel of a shady spot or brighten it up. Learn to see shade as an ally instead of a problem when planning your garden.



Regular Tips and Smiles from Ken's Gardening Activities


return from Speaker to Home Page