Ken's Garden Visits
Join My Adventures
One of the joys of being an avid gardener and a garden writer is the opportunity for garden visits. Join me as I wander through some public and some private gardens .
One of the joys of visiting my website is the opportunity to visit those gardens with me. My camera and my notebook will bring you into these gardens and reveal what I see in them. Most are wonderful experiences and a rare few make you wonder why you invested the time and effort. It is all very subjective of course. You'll see what I see and miss those things that don't catch my eye. Hopefully we will both enjoy the experience.
Where Have I Been!
The rest of this page will continue to grow as my travels take me to new places. I'll give you a little teaser and a picture of each garden that I write about. You can simply follow the links to read more about these interesting places. Because I'm too busy gardening, the list will be in chronological order of my travels. To alphabetize it after each visit would take time that I need to spend getting my own garden in shape after my absence from it.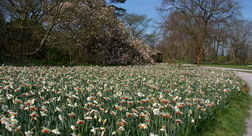 Wisley, Spring 2007 Just south of London England, this is the headquarters and main garden of the Royal Horticultural Society. This 97 ha garden has an enormous range of plants and demonstration gardens. In the spring the vastness of the Narcissus display alone, makes this one of my favourite garden visits, never mind the thousands of other flowering bulbs.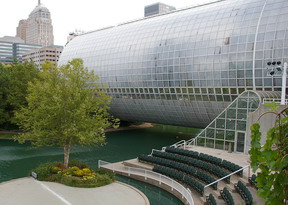 Myriad Botanical Gardens, Autumn 2007 An oasis of green in downtown Oklahoma City this garden has lots of walks and water features that make it a pleasant escape from the city around it. It's large glass house is built a bridge over the lake and features a wonderful elevated walkway that lets you explore the tops of the palm trees.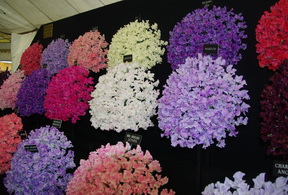 Hampton Court Flower Show Summer 2008 This is billed as the largest flower show in the world and my feet could provide an aching witness. This years visit was dampened by the record rainfall that we "enjoyed". A parade of amazing garden designs and incredible displays of individual flowers and garden plants makes a visit to this show seem like several different garden visits.





Sissinghurst Summer 2008 This garden and house were the home of Vita Sackville-West. I had heard and read a great deal about this venue before our garden visit and the best way to describe it was to tell you that it actually exceeded my expectations. The range of plants was wonderful but the layout and design of the entire garden is what makes Sissinghurst brilliant.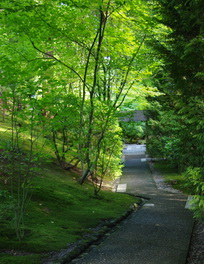 Portland Japanese Garden Autumn 2008 This large magical space was the highlight of the many gardens we visited in Portland. A true respite from the cares and stresses of modern life.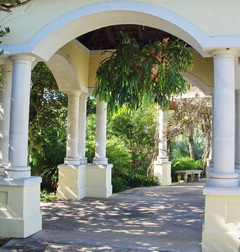 Hollis Garden Winter 2009 A small horticultural gem in the centre of Florida. An amazingly detailed small space well worth a visit, particulary in the winter for northern snowbirds.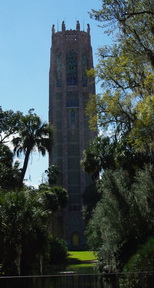 Bok Tower Gardens Winter 2009.
The Bok Tower is an imposing site in Central Florida but in Feb 2009 I discovered the wonderful and extensive gardens that surround it.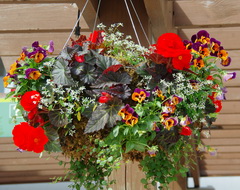 The Montreal Botanical Garden Summer 2009 A large, diverse and delightul garden that is accessible by subway. Wonderful collections of many different types of plants. A great place to work up an appetite before sampling the diverse delights of one of Montreal's many great restaurants.



You can search my entire site for answers to your other gardening mysteries.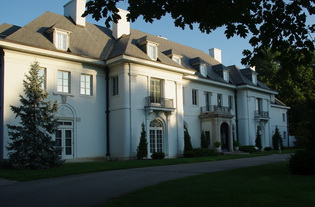 Indianapolis Museum of Art August 2011 You might come for the art but you will stay for the gardens. This Museum is a gardener's delight as it is surrounded by 100+ acres of well maintained gardens with casual ravine walks and a formal garden and allee that leads to the magnificent Oldfields Lilly house that was the centrepiece of the original estate grounds.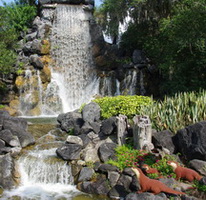 Legoland Florida February 2012 A garden visit to Legoland?? This one is built on the site of the former Cypress Gardens and we went to look and see how they had integrated the old and the new. These Lego Otters enjoying the the well planted waterfall are indicative of how well they have transformed this park into an exciting new destination.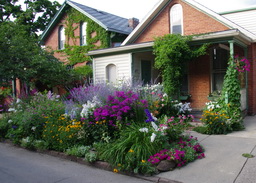 Garden Walk Buffalo July 2012 For all of the month of July, Buffalo N.Y. hosts a myriad of horticultural delights that they call the National Garden Festival. The Highlight is Garden Walk Buffalo which lets you explore, free almost 400 private gardens during the last weekend in July. A must see event.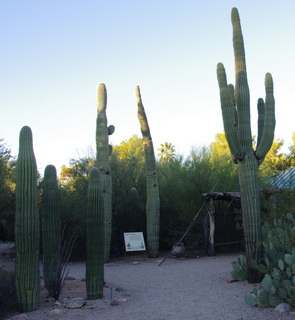 Tucson Botanical Gardens October 2012 This is one prickly place to visit. A garden filled with a wide variety of succulents growing in what appears to be a very inhospitable desert.







Quebec City August 2013 This wonderful historic city is a tourist mecca. Everywhere throughout the history there are horticultural delights that range from street plantings to vegetable gardens on the steps of the parliament buildings.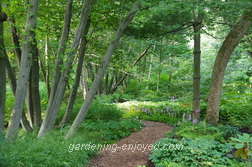 Domaine Joly De Lotbiniere August 2013
This fabulous and ancient garden hugs the shore of the St Lawrence river about an hour to the west of Quebec City and is on my list of must see gardens.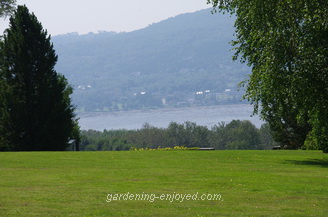 Quatre Vents
August 2013.
This world renowned garden of some 22 acres, is a private estate that you can enjoy vicariously through my privileged tour. It is truly a once in a lifetime experience.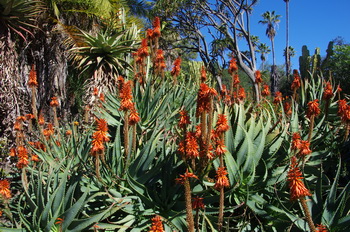 Huntington Gardens
January 2015
This amazing garden in Pasadena CA has 120 acres of display gardens subdivided into a variety of rooms each showcasing a different region of the world or gardening style.