Dallying In The Dirt
Tips and Smiles From Ken's Gardening Life

Sign up here for my regular ramblings,(note the sneaky avoidance of terms like, 'weekly',or 'monthly' that force me to come in from the garden.) It lets you know what I'm currently doing in the garden.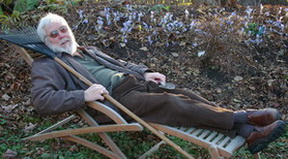 Dallying In The Dirt,
details my current activities and includes new tips and tricks as well as reviews of new plants or products that I have tried. If a supplier gives me these new items free, as they often do, I will tell you that, at the top of any review. Sometimes the stuff is just junk (or maybe I just can't follow directions,) and I want to be able to tell you that.
What To Do Now!
Reading my ramblings is a timely way for novice gardeners to find out just what they might want to be doing in their gardens and an easy way for old hands to find new things to try.
Got Questions?
I will attempt to answer them. You can send me questions (hopefully about gardening,) by responding to any issue of Dallying In The Dirt.
Start
Dallying In The Dirt
by simply filling in the form, top, right.
To check out back issues Dallying In The Dirt click here

return from Newsletter to Ken's home page