Sissinghurst Gardens
One Of The Best
Sissinghurst was the home of Vita Sackville West.
Her reputation as a garden designer, plantswoman and writer is considerable and preparing to visit her own home and garden makes you wonder if it can possibly live up to your expectations. It does. Where to begin to describe it, is the great dilemma.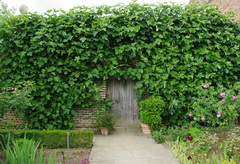 A Different World! You enter through a gate in the large brick wall and suddenly realize that you are truly in a different place. Immediately in front and dominating the space is the tower where she kept her writing office and was able to command a view of her entire creation. Manicured lawns are enclosed by a high brick wall that is patently there but almost completely covered by a range of magnificent climbers. Clematis, one of my favourite vines, does things here that I can only dream of in my somewhat harsher climate. Great drifts of flowers hang from the wall to at least 10m (33ft.) Your eyes gradually slide downward to the borders in front of those walls. Filled with a wide variety of perennials and shrubs. You start to realize the size of these borders when you stand and contemplate a large purple flowered shrub and slowly realize that, yes, it is a Buddleia, larger than would ever grow in my climate. If it did I wouldn't have room for it.



The Garden Reveals Itself! I slowly become aware of small gateways through these walls and step gingerly through them to be overcome with yet another gardener's paradise. Perennials, annuals, shrubs and then a huge espalier covering10m both left, right and up. I slowly realize that it is Ficus carica,(top picture,) the edible fig and am amazed again. The whole courtyard that we are in, is a carefully laid out block of squares and rectangles that lead you carefully through it, while simultaneously obscuring and emphasizing the size of this garden. Suddenly you become aware of a huge curved wall of Clematis with a single bench in the centre. Sitting in the bench gives you the first real hint of the magnificence of this garden's design.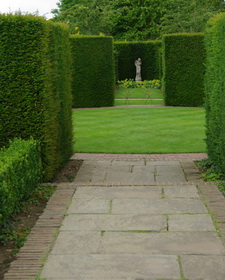 Vistas! The carefully crafted vista draws my eye down a long sweep of gardens and hedges to find the statue at the far end in it's own semi-circle of Yew hedge. From here on throughout Sissinghurst's gardens the eye is constantly drawn down a variety of vistas. Some very manicured, one very wild through a grove of hazel, always with a powerful element at the end to complete the view. Some of these vistas intersect each other and you only slowly become aware of it as you follow them.





Amazing Horticulture! The view down a neat row of Tilia cordata, (known as Lime trees here,) makes the gardener walk under them to see its horticultural complexities. The linear branches have no ends as they are grafted on to the next one to create a continuous line of foliage. The horticulture and the view it creates are amazing.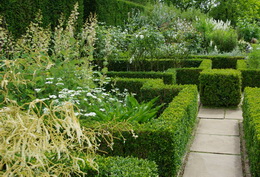 Famously White! Each of Sissinghurst's separate garden rooms these paths and vistas lead me to are quite different and a delight unto themselves. The most famous is the white garden. Knowing that I would eventually wander in to it did not reduce its impact. How can any space that is filled and that is the right word, with nothing but green foliage and white flowers be so powerful. Yet powerful is not the correct word as there is no sense of power but rather an amazing sense of calm and serenity. Any stresses and strains that traveling here may have induced, drain from my body. I observe a couple quietly sitting at a table in the corner, reading. My first thought is, "Why are they wasting valuable garden viewing time just sitting there?" Then it slowly dawns on me that they probably come here regularly just to be in this space. Cerainly Sissinghurst's creator must have used this space to regenerate herself.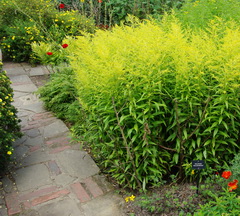 Mood Shift! I'm led down a couple of more pathways by the power of the vistas and then find myself in the opposite space. Yellow, orange and red burst with heat and vibrancy from flowers and foliage to fire my gardening spirit as surely as the white garden calmed my soul. A Canadian gardener delights in the block of Solidago, (aka Goldenrod.)



A climb up the tower we saved for last. From that vantage point the whole of Sissinghurst's marvelous design is laid out before us, confirming its place as one of the most intriguing and inspiring gardens this gardener has had the privilege to wander through. A return, at a different season is certainly on our agenda.