A Wisley Summer Visit
Even Better Than Expected
Our second trip, this time to experience a Wisley Summer was certainly equal to our first, a spring time adventure.
A Learning Experience!It was apparent that I need to learn. Upon asking one of the gardeners what species of Beech they used for their hedging, I was quietly informed that the hedge beside me was Hornbeam. Now in my defence they are quite similar and some Hornbeams Carpinus spp., while native to my part of the world are rather uncommon. That's my excuse and I'm sticking with it. The hedges both Beech and Hornbeam are quietly magnificent separating the many areas of this garden.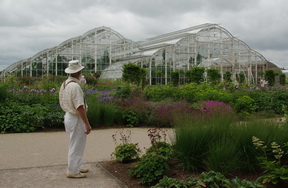 What's New? The glasshouse, that's yours truly admiring it, is completely new and the amount of new growth evident in the few months that it has been open was fascinating. While you might expect some of the rampant vines such as Thunbergia to grow quickly, it was the growth in some of the succulents that was quite amazing. This new facility also houses a large underground display about the utility and importance of a plant's roots. It was quite informative but I was a little disappointed that they did not have any glass walls so that actual root growth could have been seen.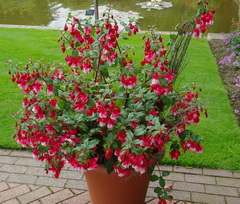 I'm A Fuchsia Convert! I'm not normally a Fuchsia fan but a Wisley summer display, managed to entice me. The main walkway past the large lily pool had a long line of large containers each one growing a different variety of Fuchsia. Being Wisley, they were, of course, all labeled. A delight to discover and a wealth of photographs for my library. If you ever need a picture of a particular Fuchsia, I now probably have it. The picture shows Fuchsia "Prosperity." The huge pool behind these planters was filled with a large assortment of water lilies. This pool was one of the things we were anticipating as it was devoid of Lilies and teasing us when we had visited it the previous April. We were anxious to see the changes in many areas. What could have replaced those thousands of Narcissus in the bed along the pathway. Why interesting annuals of course and it was equally stunning.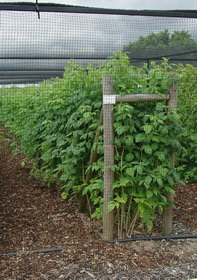 Edible Crops Abound! There is a large section of the garden devoted to food crops and I have several photos of a variety of espalier fruit trees and it was fascinating to see just how much fruit was being produced from these restricted plants and spaces during a Wisley summer. The large crop of beautifully ripened raspberries were carefully enclosed in netting, supposedly to keep marauding birds away but I suspect the paying customers might be equally as rapacious. I stepped inside one of the enclosures where there was a gardener working and was immediately accosted. When I reassured her that I only wanted picture of the supports she kindly accommodated me. In the vegetable garden section most of the plants were growing in the open except for the Cauliflower and upon inquiring I was told that pigeons have an affinity for that crop and the netting was there to deter them. An amazing number of vegetables were growing in gro-bags showing how readily they could be accommodated on a balcony or patio.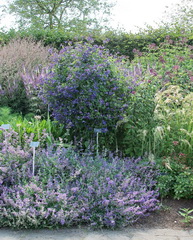 New Uses - Old Plants!Clematis is going to find more room in my garden. Wisley uses Clematis in the middle of its extensive perennial beds. A small obelisk, about 2 m high, is dropped into the bed and a Clematis ( C. Criostemon pictured,) is allowed to scramble up around and about it, creating a pinnacle of brilliant bloom in a midsummer garden. I'm already planning how to build and insert those obelisk this winter. There was almost no foliage visible as the flowers simply covered the entire structure. Gardens such as Wisley are always an inspiration to we lesser gardening beings. My only hope is that I can pull it off successfully and let people think it was my brilliant idea.


It is really brilliant of my son to live within an hours drive of this amazing garden. If you are ever near London with a day to spend, Wisley summer, spring or fall should be near the top of your list of places to visit.