Crunchy Green Cole Slaw

I make a couple of versions of this crunchy green cole slaw, depending on what's available in the garden. The basic preparation is the same. They just have different appearances.
The main ingredient is a fresh cabbage. I use a crinkly savoy cabbage for my green cole slaw.
Cut the cabbage in half and then remove the thick central core from each half. Half a cabbage usually makes enough slaw to feed 6 - 8 people or, as it improves with age, two people for a few days.
Chop the cabbage into pieces about 0.5 cm (1/4") This is an approximation please don't take the time to measure.
Mix the cabbage in a bowl, with your choice of vinegars. I like some rice vinegar and a little white Balsamic, about 3 /1. Use enough to leave a nice puddle in the bottom of the bowl. Stir the cabbage and vinegar regularly to make sure all of the bits get well saturated.
While stirring chop and add the other ingredients. With my green savoy cabbage, I add some Onion, green Pepper and Fennel. Each of those would be 1/4 of the amount of cabbage at most. If you have a few red radish to chop in, it gives the slaw a bit of a colour lift. Keep stirring.
Cover and refrigerate until tomorrow or at least a few hours. Stir thoroughly whenever you are passing through the kitchen.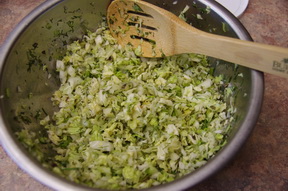 Before serving, drain off the excess vinegar and add a couple of tablespoons of Mayonnaise, mix well and serve. This should make a slightly crunchy green cole slaw that simply displays the flavours and textures of the basic ingredients.
Return to Recipes main page from
Crunchy Green Cole Slaw.