Aubergine or Eggplant Is Essential To Every Garden


What's An Aubergine Anyway
Aubergine to Zucchini is a bit lost as a tag line in most of North America. We tend to call Aubergine, Eggplant but that would have made a strange E - Z tag line. I could have used Asparagus but that wonderful spring vegetable is a perennial and as such, just didn't fit the story. Our Eggplant usually has large, deep purple fruit, so calling it Eggplant seems to make little sense anyway but there are older, small, white fruited varieties common in India that gave rise to the common name. Knowing the name Aubergine has great side benefits. While choosing a blazer for my wife's Christmas present a couple of years ago the sales lady was at great pains to try and tell me what colour it was, until I called it Aubergine and my fashion sensibility went up several notches in her estimation.



Why Bother Growing It?
Eggplant or Aubergine is one of those vegetables that people enjoy disliking. " I don't eat Eggplant," announce Andy & Rick, my good friends before they even try my delicious Eggplant fritters. Why is it usually the male of our species that learn to dislike vegetables? I wasn't going to tell them what it was, before they tasted it but somebody let the secret out. This is a wonderful vegetable to grow and an even better one to eat. They are sturdy, attractive, hot season plants with delightful purple flowers and probably the prettiest fruit in the garden.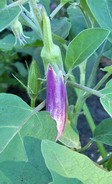 How Do I Grow It?
They need to be started indoors about 6 - 8 weeks before they go into the garden and they don't want to be there until the soil is well warmed up and any threat of frost is well passed. That's usually early June in my garden. As they are quite well behaved as garden plants they could quite easily be mixed into a perennial garden or even use a few of them as interesting accents in an annual flower bed. My garden is never without several Aubergine plants of different varieties. The long thin types are great for immediate picking and grilling for two. The more traditional oblong shaped fruit tend to be bigger and can take care of bigger appetites or larger parties. As garden plants they can be reasonably heavy feeders but I find that a good annual addition of compost to their site will produce a bumper crop.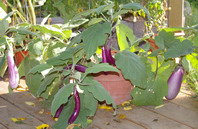 How About Containers?
They are great container plants as they love the heat. I have tried several varieties in containers and they all respond quite well but the small fruited varieties like Fairy Tale a white flecked, mid purple type, make the most decorative containers. (See picture above) Eggplant foliage is also quite attractive, usually quite large greyish green leaves on purple stalks. They will get to be quite large plants so make sure to use a large container that holds a reasonable volume of soil. A little careful container choosing can prevent having to water them twice a day in the heat of late summer.



Bugs And Beasties
There are few if any insects or diseases that find them in the garden and that alone is a good reason for growing them. Large fruit that make it close to the soil will eventually attract slugs and similar beasties who will start to chomp holes in the fruit. This doesn't usually happen in my garden until the crop has become so bountiful that the fruit hang around for a long time because, once again, my planting has exceeded my appetite.
Giving away the excess is one of the great joys of vegetable gardening. The other half of the original tag line,
Zucchini,
can be so productive that your neighbours and friends may stop answering the door when you arrive bearing your bounty.