Aubergine / Eggplant Recipes
For Vegetable Chefs

Aubergine / Eggplant
These beautiful vegetables are also wonderful to cook with. I would not recommend the, walk to the garden, pick, eat, technique with Eggplant. They have a wonderful ability to absorb flavours that makes them very useful in the kitchen.

Grilled Curried Eggplant
Go to the garden and pick one long slender eggplant.
Cut lengthwise into quarters.
Spread cut surfaces with a thin layer of curry paste.
Grill 3 - 5 minutes per side depending on thickness.
Serve.

You can easily adjust this recipe by the style and heat of the curry paste that you use. I like the Patak's line of curry pastes and they are readily available. I keep a couple of different types so that I can adjust these Eggplant quarters to suit my mood or the dinner guests. If you only have the short fat variety of Eggplant then use thick round slices in the same way.


Grilled Zucchini This grilling technique is also my favourite quick and easy way to prepare Zucchini


Eggplant Patties
These are very tasty and will often appeal to those who profess a dislike for Eggplant. Just don't tell them in advance what they are getting. These can also be adjusted by the amount of red pepper that you include.
● 1 cup eggplant, diced and cooked until tender start with more fresh to get 1 cup cooked. If the fruit are fresh I don't peel them.
● 3/4 cup cooked rice. I prefer whole grain brown rice
● 1 egg
● ½ teaspoon salt, adjust to your diet and taste
● black pepper, 2 - 10 twists of the pepper mill depending on taste
● Red pepper sauce 1- ? dashes depending on taste or fresh chopped pepper or other heat source
● 2 tablespoons grated onion
● ½ cup sharp or mild cheddar cheese, shredded

Drain and measure 1 cup of the cooked Eggplant into a bowl. Mix with all of the remaining ingredients. Cover and chill thoroughly. Drop mixture by tablespoonfuls into a medium hot pan with enough oil to keep from sticking. This is a bit of a trial and error thing but you will find the right balance for you quite readily.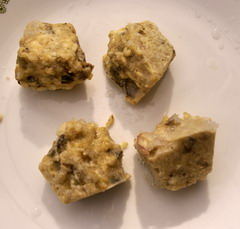 I like this recipe because I can do all of the work ahead of time and store it in the refrigerator until it is time to cook. I have also made six times this recipe in one batch and frozen it in ice cube trays. I keep a bag of the cubes in the freezer and pull out as many as I need, usually two per person. 30 seconds in the microwave to partly thaw them and into the hot frying pan.

Fresh Eggplant on your plate in January.



return from Eggplant recipes to Ken's home page


subscribe to Ken's free newsletter
Dallyin In The Dirt