Garden Walk Buffalo
An Amazing Experience

I have to admit that going to Garden Walk Buffalo is not something that springs readily to mind for a resident Southern Ontario.
Cross border shopping, flying from the Buffalo airport and various other ways to find bargains are our usual reasons to visit Buffalo.
Was I wrong!
My garden trip to Buffalo was a wonderful experience and a true eye opener. Full disclosure here, I was the guest of Visit Buffalo Niagara, tourism and they took good care of a couple of Canadian garden writers. What they showed us was far more than I had imagined was possible. It had never occurred to me that Buffalo would be a great destination for a little garden tourism.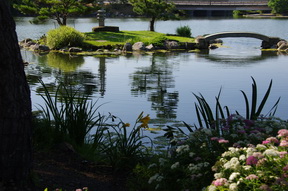 It all started in the 1860s when Frederick Law Olmsted, the father of American Landscape Architecture, was commissioned to lay out a grand park scheme for Buffalo. Delaware park, some 320 acres, was one of the results of that great work and it is still there and maintained and being actively used by the residents of the city. From playing fields to rowboats on the small lakes it is a delight in the centre of the city. Olmsted created other large parks and laid out a series of parkways for traffic that include a number of large roundabouts with his landscaping in the centre. These parks, maintained by the Buffalo Olmsted Parks Conservancy, form a large, delightful backbone for this amazing garden tourism destination.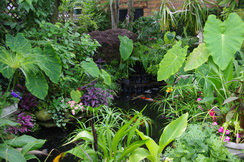 Imagine a free garden tour that includes about 370 private gardens with shuttle buses connecting the various clusters. That is Garden Walk Buffalo! It is held on the last full weekend in July and it would be impossible to see all of it. Impossible, because each of the gardens that I saw had so much to absorb and enjoy that you forget to move on to the next one. The homeowners, who are almost always the gardeners, are usually present to answer your questions and to show off the features of their gardens. Every gardener who has that weekend to spare and is the littlest bit inquisitive, (aka. nosy,) about other people's gardens should be heading to Garden Walk Buffalo. Everything from a tiny moss gardens to vibrant displays of colourful annuals are available. Every imaginable variation on water features, will send you running home, looking for a shovel to create your own. On some streets almost every house has a memorable garden.
Being an inveterate vegetable gardener, I was overwhelmed at the amazing use of space by the Garden Walk Buffalo, gardener that had a row of self watering boxes across the roof of his backyard garage. Tomatoes, Beans, Cucumbers, Zucchini and much more tumbled over and soared above the face of his garage. The sliding library ladder let him easily move across from planter to planter to tend to his vegetable garden in the sky. The earthbound parts of his garden were not shabby either.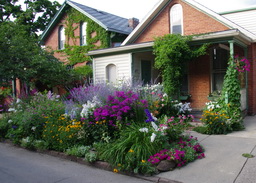 Garden Walk Buffalo is the granddaddy that gave birth to the National Garden Festival that Buffalo celebrates from late June to the end of July. There are 14 different garden tours in various parts of the city and surrounding region as well as Thursday and Friday open gardens. The image of Buffalo is being transformed, into one of the best Garden Tourism destinations in North America. Its proximity to about half the population of Canada and its ease of access across the Peace bridge make it a truly international destination. My day there was very long and tiring but in the end, it simply was not long enough to truly sample the horticultural delights that were available.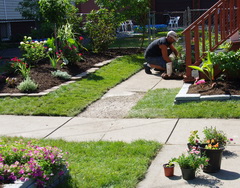 One of the most fascinating aspects of this growing garden festival, was a relatively small gardening competition. A group of organizations, including the landscaping trade associations and the National Garden Festival committee, sponsor this event. Fifteen houses on Crawley Street, (in 2012,) were chosen and each one was given a front yard make over by a landscaping company. The companies and other related industries provide the sponsorship and the homeowners only provided permission to have their yards included. The general public is afforded the opportunity to watch the work being done and then to vote on the best results. One of the home owners that we talked to was thrilled with the transformation, not just in her front yard but in the overall neighbourhood. She had come to know her neighbours and they were learning and sharing gardening tips as well as the many other benefits of a close knit community. The amazing power of flowers to transform the appearance and the entire culture of a neighbourhood makes this unique program a role model that most other cities could copy and benefit from.
Those of us who are still fascinated by the world's diversity of plant life, always enjoy a walk through a good conservatory and the Buffalo & Erie County Botanical Gardens did not disappoint. One of the few remaining large conservatories that were found in Olmsted's designs, this tri domed structure and its later attached greenhouses, display a wide range of plants from various climactic zones. One of its themes is to show plants that share the same meridian as Buffalo around the world. To a, house plant fancier like me, the display of dozens of different varieties of English Ivy was a delightful learning experience. The great size of this facility allows a visitor to tour a large portion of the plant world in just a few hours. I do love conservatories and greenhouses and Buffalo's is truly worth the visit along with Garden Walk Buffalo and all of its other horticultural delights.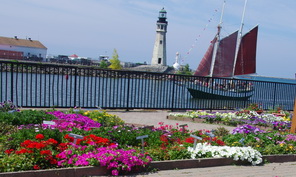 Going on a garden tour of Buffalo started with rather low expectations and ended with an excitement that I have rarely found on many of the more famous garden destinations. Garden Walk Buffalo and all of its spin off activities, that now make up the National Garden Festival, is quickly becoming one of the, must see, horticultural events for mid summer tourists. I'll be going back!!
return from Garden Walk Buffalo to Garden Visits main page.