Les Quatre Vents

Quatre Vents is translatable to English as four winds but this garden is universally known in the French. It is also universally known a,mong garden afficionados, but unfortunately not universally accessible.
This garden is part of the private summer residence of the Cabot family and is not open to the public. The Cabots allow a local charity to conduct four guided tours each summer and those spaces are reserved shortly after they are announced. I was privileged to spend several hours there with 40 other Garden Writers, in August of 2013. We were escorted around and mesmerized by, both the garden and Colin Cabot, the current family guardian of the estate. Every corner of the garden had a horticultural and personal story attached to it. The garden is located on the North Shore of the St Lawrence river in the Charlevoix region which is about a 2 hour ride east of Quebec City. In all of my years of visiting gardens, it's hard to think of one that compares to this in design, scale or execution.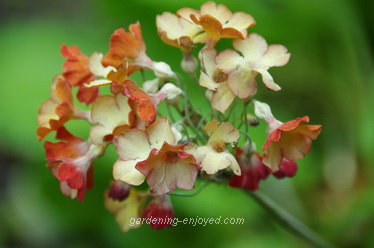 Impressive Scale
The Cabot estate is measured in sq. miles and contains five residences. The actual Quatre Vents garden occupies about 22 acres of this site and is divided into a series of rooms or experiences. Each one is unique, yet tied to the others, in a horticultural continuum. Some are quite formal while others appear to be natural woodlands. What natural woodland has carefully constructed miniature streams and bridges throughout it and pathways that take you past "natural" areas of the builder's favourite Primulas?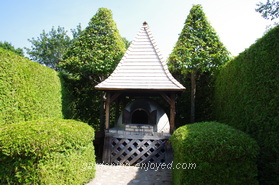 Kitchen Gardens
In a tiny garden room outside the kitchen door, a wood fired brick oven dominates the space. It's steeply shingled roof is reflected on both sides by carefully pruned Linden trees. The room is created, as are many others, by high walls of neatly trimmed white cedar,
Thuja occidentalis
and that same species is used to front the oven with two large loaves of bread. The detail is amazing and as we were to discover, repeated throughout this wonder that is Quatre Vents.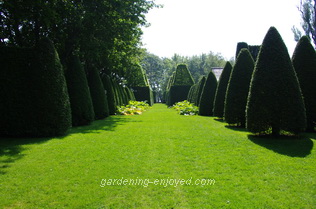 Alluring Allées
Moving away from the tight rooms around the house, the pruned Thuja continue to dominate the garden. They get bigger and grander in scale creating ever expanding rooms, each holding its own entrancing surprise. Eventually you emerge into a series of Cedar lined allées that lead you to the magnificent main allée. It starts as two rows of carefully cropped Thuja with a surprising under story of common Rhubarb. All of this unusual crop makes you want to return to the oven to combine it with some pastry. As the allée lengthens it also opens outwards just before your sight line crosses the large pond and notices a large intricate wooden gate. Beyond the gate is a path cut through a large pasture and there in the middle of this field is the end point. A large stone statue. When our host was asked what the statue was, he answered, "What do you see?"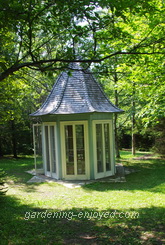 Woodland Music.
He next led us through a rather rough pasture, orchard, woodland area that on close inspection is a very carefully planned experience. Its secondary purpose, is to adjust your focus to a more natural area so that when you happen upon a delightful little building you are all the more surprised. The building is essentially round with the same roof line as the brick oven. Inside on the hardwood floor is a circle of six chairs around a hanging music stand. Colin explains that this was created for his mother and her friends to sit and play their recorders, free from any distractions save the natural beauty outside the glass walls. Just another Quatre Vents, surprise and delight.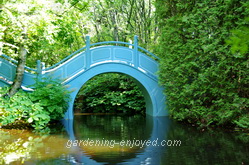 Beautiful Bridges.
We crisscross the pond and river a few more times on a succession of fabulous bridges. The bright blue Japanese bridge has been locally made from plans that Frank Cabot, Colin's father and the main architect of this garden, brought back from his oriental travels. We are amazed to discover, upon walking over it, that it is constructed from formed concrete. The semi circular shape makes a complete circle when reflected in the still waters of the pond. From that very formal structure, our hosts dares us to follow him across a rope bridge that traverses a rather deep gorge. Some of us followed with great trepidation and some us took the circular route around it.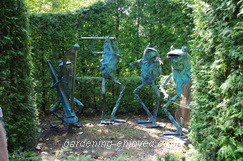 For The Birds.
Again we wandered down a series of steps, each section done on a different style and material, through a natural looking wooded area. Then the next surprise is upon us. The Linden allée encompasses the Thuja allée inside it which contains the very formal turf area surrounding the reflecting pool. Reflected in that pool is a delightful, small, three story building. It is the pigeonnier. The birds roost in the upper story just under the shingled roof that follow the same lines as the oven and the music room. Always new, always a continuum. Tucked into the edges of these very formal allées are two sets of whimsical sculptures. Quartets of frogs playing musical instrument strike up the music as you approach them. A string quartet on the left and a dixieland quartet on the right. Always another hidden surprise that requires the visitor to keep moving through Quatre Vents' gardens to experience all of its delights.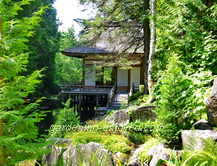 Oriental Delight.
Exiting through another Linden allée we descended slowly to the bottom of the gorge, down some moss covered stone steps, to emerge onto flat stones surrounded by carefully groomed pea gravel. There in the middle of the forest was a delightful Japanese tea house surrounded by fish filled ponds, into which a series of waterfalls cascaded. It's a very typical Japanese garden, very natural in appearance with water cascading over rough rocks and around some interesting clumps of vegetation. Closer inspection reveals just how carefully planned and planted it all is to create this natural feel. The diversity of plants life is amazing and the apparently casual steps, paths and bridges that allow you to view it from a myriad of angles are very carefully constructed to provide all of the various views. I was fascinated by the shadows that the water striders cast on the bottom of their ponds but was singularly unsuccessful in digitally capturing that image. It will still always remain with me.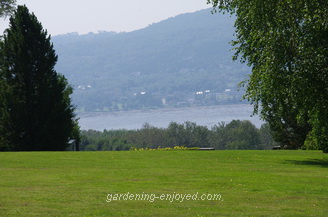 Let's Go Swimming.
Those paths and steps eventually led us up to the large expanse of carefully tended turf that filled the space between the house and Quatre Vent's expansive view of the St Lawrence. As we approached the river we suddenly discovered a low stone wall and a series of steps that led down to the neatly concealed swimming pool and it's adjacent sitting areas. It was a large comfortable area overlooked by the top of those steps but otherwise hidden from any other viewpoint in the garden. They wouldn't let us swim.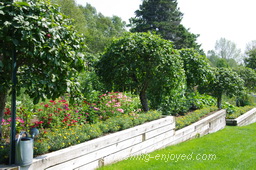 Everybody Eats.
Around the stone bathhouse and through the woods and we emerge into a series of raised beds that are filled with vegetables. This is Quatre Vents. There are shaped fruit trees, borders of Marigolds and whole sections of raised beds filled with delphiniums. What's the use of a vegetable garden if it doesn't have a few areas for cut flowers. Of course, if you glance over the vegetables there is another wonderful view of the river. The tide was out when we started; it has now flowed back to cover the tidal flats and thereby totally changing the available view.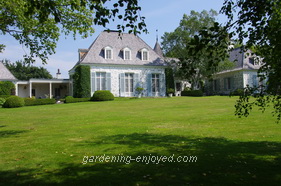 The House.
Colin has regaled us with stories about the garden and his father who actually worked, constantly digging and planting, to create his passion. Our cameras are out of batteries. Our gardening brains are on overload. To say good bye and wish us well Colin invites us into his house to meet his mother and provide a washroom break. We trudge down the long driveway to the bus and fall thrilled and exhausted into the seats as we leave the once in a lifetime experience that is Quatre Vents.
Return from Quatre vents to Garden Visits main page.