Stuffed Zucchini
A Tasty Way To Use Larger Fruit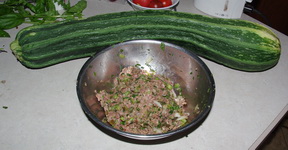 Stuffed Zucchini

We all know that zucchini are meant to be picked when they are 15 - 20 cm long. All zucchini growers have also forgotten to check for a few hours and discovered a baseball bat growing on their plants. There are lots of recipes for Zucchini loaf around but how much of that can you give your neighbours before they stop answering the doorbell.

I prefer to use up a lot of the odds and ends in the garden and make a delicious meal by stuffing those oversized zucchini.

Almost everything, with the exception of the zucchini, in this recipe can be substituted, left out, or added to.

Cut the large zucchini into serving sizes, about 10 - 12 cm long and with a sharp pointed knife hollow it out by removing the soft seed bearing core. You can try making one large portion and slicing it for serving, it's just more difficult to hollow.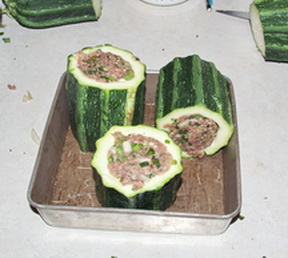 Stuffing

300gm of ground meat, beef, lamb, pork or an interesting sausage mix

substitute cooked rice to stay vegetarian

small handful of oatmeal

1 chopped onion

1 chopped pepper, your choice of heat level,

2 - 3 stalks of celery chopped small

some, (very accurate measurement,) chopped fennel

the total vegetable amount should be about equal to the meat

chopped basil, thyme, oregano, or whatever other herbs are in the garden

Season to your taste, I use, dry mustard, Worcestershire sauce, garlic, pepper, and some salt.

mix all of these ingredients thoroughly together in a bowl and then pack firmly in to the zucchini sections.

bake in a 350 oven for about an hour or until the zucchini is soft and the meat juices are running.

This could serve 2 - 4 people depending upon portion size and the quantity of vegetables that went into your stuffing.
Get Dallying In The Dirt
Regular Tips and Smiles from Ken's Gardening Activities


return from Stuffed Zucchini to main recipe page