Time For Transplanting Tiny
Tomato Seedlings


They're Growing More Leaves
The next trick now is to transplant these little tomato plants into their final container. Eventually a second pair of leaves will develop that will look like Tomato plant leaves. When these have developed, it is safe to transplant the seedlings. If you have put a bunch of seeds into one common seed tray, then the sooner you transplant them the better. Seedlings in individual cells can safely stay there for a week or two longer.




Let's Seperate
With a tray full of seedlings we need to separate the seedlings without damaging them so that they can be put into larger individual containers. Their soil moisture should be neither too dry nor completely wet. Turn the whole mass of soil and seedlings out of the tray and place on your workbench. Green side up.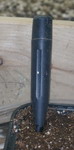 Funny Tools
With a dibble, (a short piece of wood or plastic with a blunt tapered end,) or alternatively a pencil, work the soil between the seedlings and VERY gently tug on them to separate them. Most seedlings are happier having their leaves touched rather than their stems. Poke a hole with your dibble in the soil of the new container and gently ease the seedling in. It should be a little deeper than it was in the seed tray.



Standing Up Straight
Close the hole with your fingers or the dibble but just firm enough to hold the little plant upright. You are not trying to prevent hurricane damage here, so be gentle. When you have all of your seedlings transplanted you will have too many.




Compost
It is so easy to plant a package of Tomato seeds but do you really want 25 Tomato plants and have you got room to grow them. Throwing away the extra seedlings is one of the toughest parts of gardening. Many seeds will keep until next year so resist the urge to plant them all. It's a litle late to tell you this. It's hard to get seeds to ungerminate!


Food And Water
Water them all thoroughly using a solution of starter fertilizer such as 10 - 52 - 10 and then place them 1 - 2 inches / 2 - 5cm under your lights. After 2 or 3 weeks when they are well established and growing you may move them out to the cold frame if you have one and if you need the space under the lights. The need for space often forces the building of the cold frame.


Any garden, from your light table to your back yard always seems to rapidly become too small.



Subscribe to Ken's free newsletter
Dallying In The Dirt

return from Transplanting to Seed Starting main page