Marigolds Heat Up Your Garden
Yellow and Orange Delights
If you like orange / yellow, you should love Marigolds, Tagetes spp. Bright, hot colours
are the trademark of this whole group of annual flowers. They do have some maroon reddish variegations and plant breeders have tried to produce a white variety with limited success but for my taste they are wasting their time. I plant them because they are bright and hot.
How Small Can They Be? These easily grown flowers come in a variety of sizes and shapes. The Gem series has tiny 1 cm flowers in yellow and orange varieties. These are underused flowers. They form 15 - 20 cm dense globes of finely divided foliage that are covered with masses of these delightful little flowers. They look like spindly unattractive plants when they are little and in cell paks; that's why most people don't buy them. They, like all Marigolds, are easy to grow from seed. The larger garden centres will have a few of them for gardeners like you and I who know that the end result is not obvious from the sad little plants in the store. Buy, plant and be prepared to answer the neighbour's questions. The little flowers are also quite edible and make colourful additions to a salad.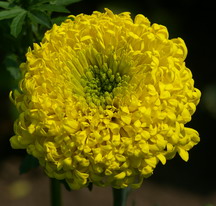 How Big Can They Be? At the other end of the scale are the very large African types such as Crackerjack. They will grow 40 -50 cm tall with flowers that are large (up to 15cm,) complete balls of orange or yellow. Great for summer-long colour at the back of a border or where they are viewed from a distance. They also make excellent cut flowers. There are some people who find their rather distinctive aroma to be less than pleasing when brought into the house. Let your nose be the judge.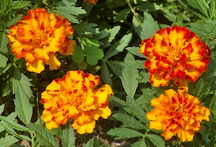 A Variety of Types and Sizes! In between these two extremes there are a wide range of sizes and flower forms. From bright clear yellows in a single row of petals to multiple petalled types with orange, copper, maroon mixes, there is a Marigold that will create just the right combination of size and colour to fill your need for a warm, sunny splash of summer-long colour. Such as the Bolero mix, pictured to the right.


Are They easy To Grow? The seed catalogues will show you an amazing range of these plants. If you have ever wondered about growing your own annuals from seed then Marigolds are the perfect place to start. They are large, easy to handle seed. They do not need a long indoor growing period and they are fairly idiot-proof. A pair of fluorescent tubes a bit of warmth and some soilless mix should give you healthy transplants. They will go from seed to garden in about 6 - 8 weeks and then should start flowering almost immediately; continuing for the rest of the summer. Give them a good shot of liquid transplant fertilizer, 10 52 10, when they move to the garden and they should be good for the whole season.


What Problems? You will frequently see Marigolds mentioned in companion planting books and articles. If you interplant them with your vegetables they are supposed to keep bugs away from your vegetable crops. I've done it and they look quite pretty there but I'm not sure they actually deter any bugs. Certain leaf eaters like to dine on them but that is rarely a problem as the foliage is heavily divided and a few bite marks are not that noticeable unless you are entering your Marigolds in the fall fair. I make no attempt to keep bugs away from them and they flourish in almost any situation, except heavy shade, that I try them in. A little water will be appreciated during extended dry spells but they are more drought tolerant then many annual flowers.



Warm, bright and sunny; the look you achieve with easy to grow Marigolds.



Get answers to your gardening questions by subscribing to
Ken's free newsletter, Dallying In The Dirt

return from Marigolds to Annual flowers main page