KEN'S GARDENING BLOG
A COLLECTION OF HIS SEASONAL ADVICE
On my front page I offer a short piece of seasonal advice about what I am doing in my garden that week.
It occurred to me that I should be accumulating those pearls in what amounts to a gardening blog so that my readers can look back and see what I was doing yesterday or last year at this time. So here it is. Dated and linked, where possible, to other pages on gardening-enjoyed.com so that you can quickly find further information about that topic. Hope you find this useful.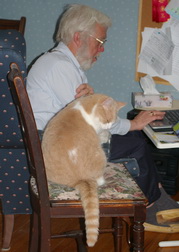 Here I am with my trusted advisor contemplating the tips, tricks and ideas that will appear on the front page and be accumulated here.

22 May 2013 Millions of visitors arrived today and wanted to visit the garden. Three different strains of nematodes came to help me out with difficult bug problems. The first one will control the dreaded Iris borer and the second one will keep the leaf borer out of my Camperdown Elm. They are simple to apply and are very effective. A watering can is all you need and the proper soil temperature. These microscopic worms attack the larva of these insects and stop them from attacking my crops. The third package will go into the veggie garden to control carrot worm and similar little nasties.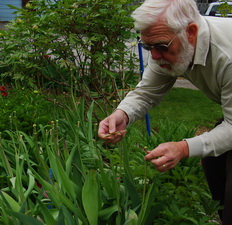 17 May 2013 My Tulip display has been spectacular this year and it is continuing as the late varieties start to bloom and take over from the fading early varieties. Now is the time to start deadheading the finished flowers. Breaking off the seed pods before they start to develop makes the later varieties easier to see but more importantly it lets all of the strength of the Tulip be applied to regenerating the bulb for next year instead of making seeds .

13 May 2013 I'm very proud of myself this year. I actually put the Peony support rings on early in the year when it is relatively easy to do so. There have been years when I procrastinated and had to struggle with Peonies that were huge and almost in bloom. Most of my Peonies are the newer single flowered, strong stemmed types that don't need support but there are a couple of old double varieties that will collapse at the first drop of rain if they are not supported.

08 May 2013 Warm weather has arrived with a vengeance before I finished planting all of the cool season crops. Planting Onions gives me one of my most useful vegetables but is probably one of my least favourite chores. You have to plant so many of them and and that leaves us bent over in the planting position too long. They get planted as border plants around the rest of the Veggie area and a little compost is mixed into the soil first so that they can be easily planted with just a dibble. That makes the process go much more quickly and the Onions seem to like it.


05 May 2013 Winter is completely banished on the day we first eat our own vegetables. Asparagus, fresh from the ground is the biggest treat at the end of April. The best things about growing it are its arrival as the first vegetable and that it is a perennial. Plant it once and eat for thirty years. We had a very warm day last Friday and I watched it grow about 10cm during that one day. Picked it, steamed it lightly until just tender, a little butter and we are in vegetable heaven.

29 April 2013 We finally had a lovely warm spring day and the soil had dried and warmed nicely. It was out to the yard with several packages of Pea seeds. Short early ones were planted on circles of hardware cloth. Tall ones and the delicious Sugar Snap Peas and a few Sweet Peas were planted along the the rows of fencing that hang from the peas structure. A few snow peas were planted to hang over the little stone wall and then it rained last night to water them in. Perfect!

21 April 2013

The dreaded Red Lily Beetle has emerged from the soil and is enjoying our Lilies. Attack!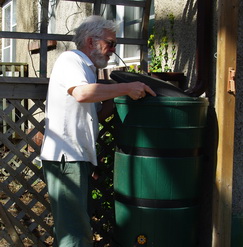 17 April 2013 If April showers really do bring May flowers, as the song suggests, then we should make sure we collect as much of that valuable resource as possible. Rain barrels gather free water that is also free of the chlorine etc that we find in our city water. It is much better for irrigating our containers. Get out there now and get them set up to catch all of those April Showers. I even haul that water downstairs to irrigate the seedlings under the lights.

09 April 2013 It finally felt a bit warm today and that allowd me to stand and look into the ponds. The middle pond will have to get the big empty and clean. The other two will get the attention of the Pondshark, a great tool for dredging junk and goo from the bottom of the pond. It's rounded teeth will not hurt the liner while collecting branches and leaves and its fine mesh bag will hold the piles of accumulated goo. Once the leaves and sticks are removed it makes a great organic supplement for the planting beds.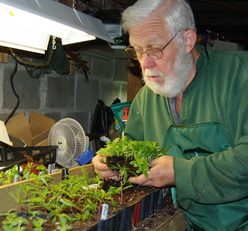 04 April 2013 Now that I have sown dozens of seeds another little job appears. All of those emerging seedlings need more space. It's time for transplanting. When the seedlings have produced the first set of real leaves it is time to pick them up by those leaves, never the stems, and plant them in their bigger containers .

31 March 2013 Tuberous Begonias and other summer flowering bulbs need a little head start so that they can be ready to flower when they go in the garden. Planting those lovely tubers indoors now will make sure that they are ready to go. I'm eagerly awaiting the arrival of several new ones for this year. I lost several to a recurring powdery mildew last summer. I also have a bag of new Caladiums to grow in my shady containers.


18 March 2013 It hasn't bloomed in a couple of weeks so it's time to prune the Hibiscus. A severe pruning now gives it lots of time to regrow and be ready to bloom all summer when it moves outside. These part time houseplants need their little bit of attention during the year to make sure they bloom when we want them to.

12 March 2013 Finally an outdoor activity. Pruning the new grape vines is a wonderful sunny winter day's activity. If only I had known what I was doing before I started. Apparently I have a 6 row kniffen and I didn't even know what a kniffen was. In all things, reading the instructions first can be very helpful. Follow me as I learn the intricacies of grape growing.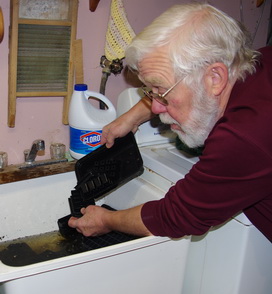 07 March 2013 The biggest threat to growing healthy seedlings is a fungus disease called Damping Off. You only see the results when the plants are dead and fallen over. There is no cure only prevention and good sanitation is primary.

24 February 2013 Don't rush out and buy a bunch of fancy containers to start seeds and grow seedlings. I reuse a wide variety of plastic containers that arrive at our house such as take out food containers. The big secret is drilling sufficient drainage holes in their bottoms.


13 February 2013 The tiny seeds of the Begonia boliviensis produced very small leaves as they emerged from the soil. They did start to grow quite quickly and I soon found the little pot they were seeded in, becoming crowded. The tricky chore of separating and transplanting them took a steady hand. We got almost 60 little plants and so far all but one are growing nicely under the lights.

31 January 2013 The shows have been visited, the seeds have been ordered, the begonia seed has been sown. It was really cold in our part of the world last week so we thought we should go to Florida and inspect a few Palm trees on your behalf. Took a couple of grandchildren and had a grand time. In between palm inspections we laid by the pool with a good book and a cold beverage. Now it's back to work.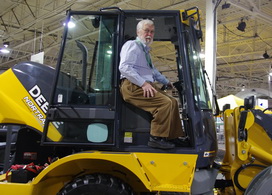 16 January 2013 The new year usually starts with a visit to the huge Landscape Ontario trade show. It's an industry show for landscapers, Nurseries and everyone in the trade. We writers like to attend to look for new products and new ideas in the marketplace. An exciting one this year was a fertilizer being made from the kitchen wastes of large institutions and restaurants. They use an anerobic digester to produce methane gas and the residual is a great organic fertilizer. More information will be here later in the year. Oh! I cannot resist the urge to explore large machinery for which I have no use whatsoever. I think it's a male thing.

24 December 2012 Merry Christmas and a Happy New Year to all my readers. I will spend the holidays planting Amaryllis bulbs with grandchildren and contemplating the wonderful new plants on offer in the seed catalogues. I'll return in the new year to talk about growing new plants from seed and what a delight that is during the long winter months.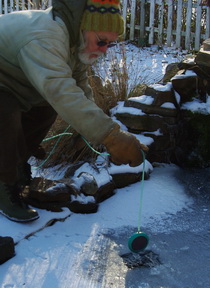 19 December 2012 As the ponds slowly think about freezing over, I think about shutting down the pump that keeps the water circulating. In an attempt to keep the fish happy I put a simple air bubbler into each of the ponds. This keeps a hole on the ice for most of the winter and introduces some fresh oxygen into the water to help the fish.

10 December 2012 In my attempts to be prepared in advance, I try to remember to get the snowblower out of the back of the garage and make sure that it is working before the first snowfall. The late and warm autumn this year has allowed me to procrastinate that job but the weather reports are suggesting that I should get it done. If there is too much snow in the driveway I cannot get out to go to the ski hill.


08 December 2012 . I love my Harlequin Maple Tree with it's bright white variegation on the leaves but I really didn't plant it in a great spot. It wants to be bigger than I need it to be, shading the nearby beds and tangling with the power lines. That leaves me with a large pruning job most years and that somehow seems to make it grow even faster the next year. Always think about a plant's mature size when choosing its location.

30 November 2012 Rain barrels are wonderful things to have in the summer but at this time of year we must empty them before they freeze and split. Luckily all of our evergreens and newly planted bulbs can really benefit from a good soaking as they enter into winter. The evergreens will then have lots of water available to survive warm sunny days in late winter. The bulbs will be able to grow the root systems that allow them to explode with colour in the early spring.


19 November 2012 I always plant more pole beans than we can possibly eat during the summer. This yields great benefits in the fall. When taking down the dried vines to add to the compost, I am able to collect a significant quantity of dried bean pods which I can shell to produce a colourful harvest of dried beans. These become baked beans or bean soup to feed us during the winter.

15 November 2012 In my part of the world many of the grafted Roses need a little help to survive the winter. All of the new everblooming and shrubby Roses are really quite hardy but some of us still want to grow the delightful Hybrid Teas and many of them are not completely hardy. We undertake a prune and bury routine after they have been severly frosted and have stopped blooming.


12 November 2012 It looks like all of the leaves have finally fallen from the trees and now I can ascend to great heights. It's time to work my way around the house, moving and climbing the ladder in order to clean out all of the gutters. They need to be open and free running to let the winter rains and melting snow flow down to the ground. If the snow and ice back up it can get under the shingles and show up in our bedroom, never a pleasant experience. We've just returned from 9 days in the North of England, visiting the newest grandchild and now there is a long list of "get ready for winter," chores that need to be undertaken.

30 October 2012 It was a cold wet and miserable day, just perfect for pond winterizing. Removing as much vegetation as possible from the ponds stops all of that detritius from sinking to the bottom and becoming smelly ooze. The oxygen that is removed from the water to aid in its decomposition reduces what is available to the fish. Getting wet and miserable is just one of the joys of pond ownership in the late autumn. What little relief there is comes from a wondeful pair of Fiskar's long handled pruners that allow me to reach deeper into the pond.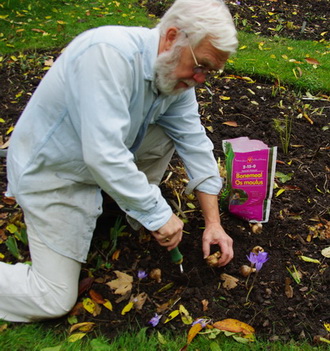 22 October 2012 I have to surrender the warmth and Cacti of Tucson and get back to reality. The 600 Tulip bulbs sitting on my front porch will be a very poor investment unless I get them into the ground. Planning a pattern to plant them in, is the first job. There are 300 early ones, 3 different varieties, to spread evenly across the front beds and another 300 later varieties to mix evenly in with them to give an extended show of colour next spring. Then I actually have to get down on my knees and dig 600 little holes while telling myself, repeatedly, that it will all be worth it in the spring .

14 October 2012 My annual Garden Writers symposium has me in beautiful Tucson Arizona this week. It is horticulturally strange to we northerners. The massive Cactus growing outside instead of in 6" pots, takes a lot of getting used to. The lack of native groundcover, even weeds, that leaves the soil everywhere, brown and barren, unless it has been planted and irrigated, is one of the most difficult things to mentally adjust to. The warm weather is lovely and the Tucson Botanical Gardens have been a delight. The Assistant Gardener is taking care of the things back home where impending frosts are the biggest concern.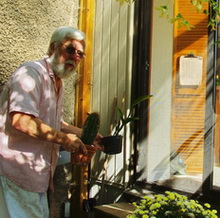 09 October 2012 I can avoid the possibility of frost no longer. It's time to move my most tender part time houseplants, back inside. The tropical Orchids and the Hibiscus and a couple of small Palms need to find their place inside the solarium before a cold night knocks them down. The Clivia and and the Amaryllis bulbs are not the least bit happy in the cold. The Amaryllis will adjourn to the cool basement to go dormant, and the Clivia will occupy the coolest spot in the soalrium in hopes that it will then decide to bloom.

06 October 2012 It appears that we are finally going to have a very cool night so it was time to go and pick as many of the eggplants as possible. To keep them for the winter I make a huge batch of my Eggplant fritter batter and then freeze the uncooked batter in ice cube trays and then store them in freezer bags. I can take these out and cook and serve them in just a few moments during the winter.

03 October 2012 Forgive my vanity but I just need to show you my biggest success this year. As October starts and I think about winterizing the garden, the ponds come quickly to mind. The first frost will take down this magnificent Colocasia that is thriving in my waterfall. It simply grows in a small basket of gravel that hangs where the waterfall can run through it and that constant water supply as well as the nutrients that the fish add to the water, result in this amazing growth. It will overwinter indoors as a tuber and as a small plant that I will create from one of the sideshoots and keep in a bucket ot water all winter.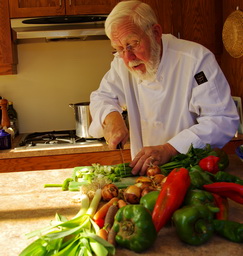 27 September 2012 The vegetable beds are overloaded with the results of the summer's activities. Piles of Peppers and carts of celery and carrots along with large Leeks and Onions are overloading the kitchen and it's time to store them for the winter. Making a huge batch of Spaghetti sauce is my favourite way to utilize this abundance. A day's work now will feed us many times over the winter, with just a trip to the freezer.

22 September 2012 The Colchicum are jumping out of the ground with their large pink? flowers and proving once again that our yards need not look worn and barren in the fall. Mine have mutliplied magnificently this year and there are clumps with up to 20 of these large fresh blooms. Rush to the store and buy some of these bulbs before they bloom in the box.

17 September 2012 I still like to do grade school science projects. While digging and dividing my Iris, I do still find some that have been attacked by the Iris borer and if I am doing it later in the summer I occasionally find a mid-brown, bullet shaped Pupa in the soil. Here's the science experiment. I put them in a jar of soil to see if they will hatch into adult moths. This week one did and that's his picture at the top. We rarely see them in the wild because they are nocturnal and obviously not brightly coloured. He posed for several pictures and I felt a bit sad at disposing of him but why would I release him to attack my beloved Iris.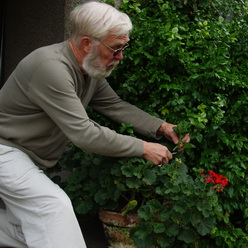 11 September 2012 I like to have some horticultural activity during the winter and I tend to be rather thrifty, (my kids might call me cheap.) Taking cuttings, now, of several of my annuals such as Geraniums and Begonias lets me grow and multiply them under my lights, all winter and gives me a good supply to plant out next spring without melting my plastic cards at the garden centre.

03 September 2012 I had a good Garlic harvest this year. I finally was able to dig out most of the seedling garlic that had been like a weed in my beds for a couple of years. Now it is time to return some of the biggest cloves into the newly blank space that has resulted from the big rebuild. Garlic is probably one of the easiest things to grow and takes up very little room.

25 August 2012 One of the best things about being a writer is being invited to Loblaw's tasting day. We assemble at Stokes trial grounds in St. Catherines and are led around the fields while being offered Tomatoes and Peppers to taste. Loblaws is looking for advice on which new plants to include in their President's Choice line up for next spring. A delicious and fun day. More details in the next issue of Dallying In The Dirt.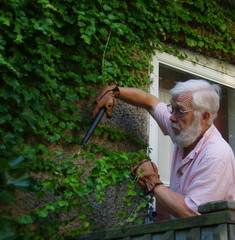 13 August 2012 It's time for a less than pleasant chore, pruning the June bearing Raspberries. A pair of long handled pruners and some good gloves make this prickly job a bit more comfortable. Old canes must be removed to let the new canes develop as they will produce next year's fruit.

07 August 2012 I do love the look of the Boston Ivy on my almost 100 year old house but there is a price to be paid. It grows! Pruning it is a twice a summer chore that requires a little ladder work. If I don't prune it we cannot see out the windows or get in the door.

31 July 2012 I'm in the middle of three jobs. Several of my beds are in need of a general replanting. As part of that chore I am digging up a fine garlic harvest that was interplanted with the Iris and Daylilies that are being dug, divided and revitalized. Oh! I'm killing a huge amount of accumulated weeds in the process.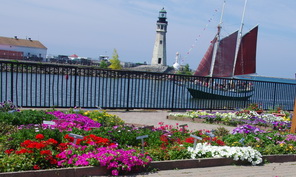 17 July 2012 I have just returned from a wonderful trip to Buffalo N.Y. where I was treated to a preview of Garden Walk Buffalo. This is an amazing event featuring a free tour of almost 400 private gardens during the weekend of July 28 - 29 2012. This is the final event of their National Garden Festival and it elevates Buffalo to the upper echelons of Garden Tourist destinations.

09 July 2012 Whenever there is nothing else that needs my attention in the garden there is always the control of native vegetation. (aka weeds.) The potatoes are wilting the Cauliflower has bolted becasue of the heat but the weeds continue to flourish. Even weeding takes some skill and experience. The huge Sow thistles need to be dug out because pulling them will always snap them off leaving a healthy root to regrow in a matter of days. The Portulaca must be removed to the compost because it will re-root and grow if left laying, even upside down, on the soil.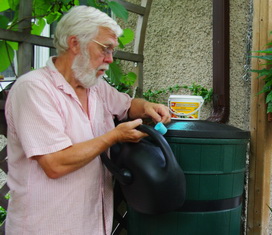 05 July 2012
I grow a wide variety of things in my many containers. They need regular fertilizing to be successful. A soluble fertlizer that is dissolved in their irrigation water every second watering is an easy way to accomplish this. You can use an organic based fertilizer if you wish. Things like Potatoes need a healthy diet to produce a good crop of tubers.

30 June 2012
Garlic is something everybody should grow, It's easy and has so many uses. It produces these long stalks with the curly tops, called scapes. These should be removed near the top for a variety of reasons. They are interesting fillers in floral arrangements. they are delicious chopped into stir fries or made into pesto. They will drop a mass of seeds if left on the plant and Garlic will become a weed in your yard.

22 June 2012
The Harlequin maple, with its bright white edging on the green leaves, is one of my favourite decorative tees. It does need to be checked each year to find and remove any branches that have reverted to solid green.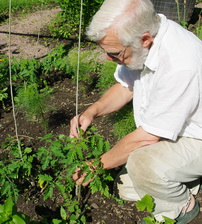 15 June 2012
I grow my Tomaotes as a single stem plant that is wound around a rope for support. This produces a large quantity of fruit from a very small space.

06 June 2012
Potatoes make a great container crop. The trick is to plant them low in the pot and then continue to fill the pot with soil as the potatoes grow. That covers lots of stem, thus inducing potato producing side stems.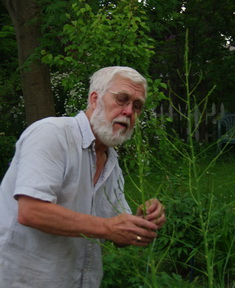 31 May 2012
Asparagus might be my favourite vegetable. It's the first one we eat in the spring and it's perennial as well as having that divine early spring taste. It was a bit low in production this year, probably due to our weird weather and it is now time to let it grow and regenerate its massive root so that it is ready for next spring.

28 May 2012
I'm in no big hurry to plant out my Tomato plants but it is time to set up my famous Tomato structure. It's a support device for growing 16 Tomato plants, vertically up ropes and it works very well.

22 May 2012
I have one or two of the old fashioned Peonies with big double flowers and weak stems and every year I resolve to put their peony rings on when they are very short. Invariably I wind up fighting with a plant that is already in bud as I again vow to do better next year.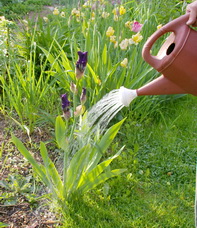 14 May 2012
10 million helpful visitors, beneficial nematodes, have arrived and been distributed in the garden. They protect me from a variety of things but mostly the Iris Borer and the Elm or Birch leaf miner.

03 May 2012
The early peas are poking through the soil and it is time to build the pea frame. I use it to grow a mixture of Sugar Snap Peas and Sweet Peas. A few late season regular peas also find a space on it.

28 April 2012
Pruning Clematis has had whole books written about it. There are different groups of Clematis that want different types of pruning but in our part of the world it is probably fairly safe to just prune off the old dead wood, just above a healthy developing pair of new buds.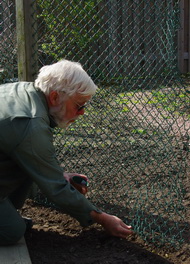 22 April 2012
I'm going out to plant the Peas because the soil is dry and it is nearing the end of April. There are Peas growing that I planted a month ago during our freak March heat wave. The Lettuce and Spinach from back then are also growing albeit a bit slowly. The weather this spring has just completely thrown off my normal planting schedules.

16 April 2012
Close your eyes and let your tastebuds savour the true taste of spring. The first Asparagus has arrived and was devoured after just a few minutes of steaming.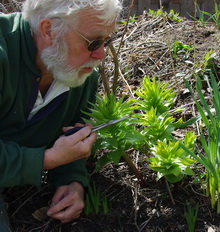 09 April 2012
The Fritillaria and the emerging Lilies are under attack from the voracious Red Lily Beetle. I have already seen some egg clusters that need wiping off.Look for a row of little orange dots under the leaves. My needle nosed pliers and a sharp eye are the best control for this highly destructive but visible pest.

29 March 2012
Corn gluten is being marketed in several forms as a weed preventer. The important thing to know about this product is that it inhibits seed germination and therefore it must be applied early before weed seeds have had a chance to germinate. The bright yellow blooms of Forsythia are a good time indicator. Apply as they are opening and you will get some results. This hose end sprayer was the packaging it came in and was easy to use.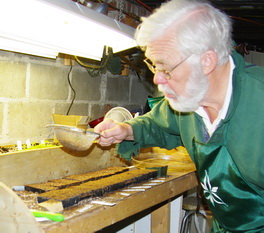 26 March 2012
Starting seeds indoors is easy and productive as long as a few basic rules are followed. How deep to cover seeds is always a big question. About 4 times their diameter seems to work and indoors I like to use a very fine medium to do this, so I usually use a fine sieve to shake the medium over the seeds.

19 March 2012
Tuberous Begonias are one of the stars of our summer containers. Great foliage and gorgeous large blooms and the ability to thrive in some shade make these ideal patio plants. They need to be started now in order to have blooming sized plants by patio season.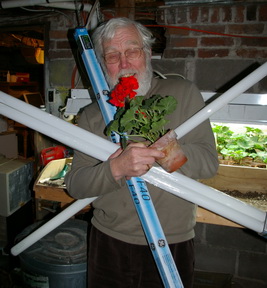 05 March 2012
Providing sufficient light to produce healthy transplants from seeds can be a confusing business. I have tried many types and read all the press releases and continue to come back to the inexpensive cool white fluorescent with the occassional daylight added to the mix. Distance from the plants and age of the bulbs are bigger considerations.

29 February 2012
I can only post on this date every four years so I'm silly enough to take advantage of it. I find lots ways to reuse and recycle, I'm drilling drainage holes in the bottom of a take out food container and that turns it into a great little seeding flat. The plastic is brittle and drilling works fine whereas punching a hole seems to always just shatter the thing. Little yogurt containers can also be drilled to make small plant pots for my Begonias or Sweet Peas.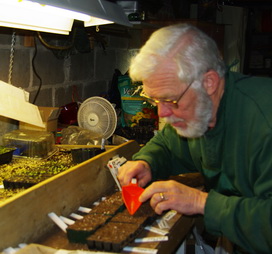 20 February 2012
The seeds have all arrived and it's time to start getting them into the soil. There are a few key items to consider when starting our seeds. Getting the right soil temperature to encourage germination is very important. When to plant each variety is also a key to producing good transplants for the garden. A little reading and calendar counting solves this problem in a logical manner.

09 February 2012

We ordered the seeds and went to Florida for a week while they were in transit. We took advantage of a media pass to visit the new Legoland. It is on the site of the old Cypress Gardens and that's why a garden writer goes to Legoland. This silly old gardener climbed onto few rides, (the Assistant Gardener wisely offerred to be the photographer,) on his way to see the parts of the old park that were being restored. The whole place was a great experience just click on this link to read about it.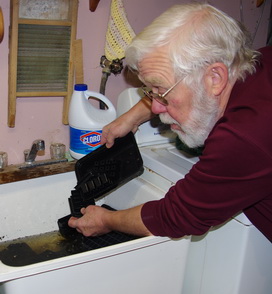 28 January 2012 Getting ready to start some seeds and the first step is to thoroughly clean and bleach all of the trays and tools as one of the steps to preventing the Damp Off fungus from attacking the seedlings.

25 January 2012 I have enjoyed a wonderful break from writing and planting but even during the holiday I got to do a little fun planting. Helping each of the grandchildren plant an Amaryllis bulb is a great way to get them interested in the joys of growing things. Even as young as this little guy, they get right into shovelling and poking dirt with Grandpa.

21 December 2011 A very Merry Christmas and a Happy New Year to all of my readers. I will be relaxing with family and perusing seed catalogues for a couple of weeks. Will post here again about the middle of January.

16 December 2011 I am very proud of myself. I have even brought the Snowblower to the front of the garage and tuned it up so that I am actually ready for the first onslaught of the fluffy white stuff. Bring on the seed catalogues and skis, we are ready for winter.

07 December 2011 For many of my readers it might be too late but I'm now busy emptying my rain barrels so that they don't freeze and split. Great opportunity to make sure that your evergreens head into the winter with adequate moisture.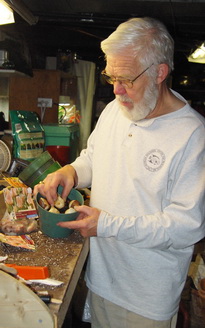 02 December 2011 Now is the time to put all of those leftover bulbs into pots for spring forcing .


25 November 2011 I like growing my Pole beans for a variety of reasons and as the season ends we can shell the dried beans to make a big pot of baked beans.


20 November 2011 Those of us in cold climates who are still growing some of the less hardy Rose types need to provide some winter protection, such as hilling up the soil to protect the bud union and the bottoms of the tender canes. Growing some of the many new hardier varieties is much easier.


16 November 2011 One of my least favourite jobs as winter approaches is to climb the ladder and clean all of those lovely coloured leaves from the gutters. I try to wait until they have all fallen and then the weather can get quite unpleasant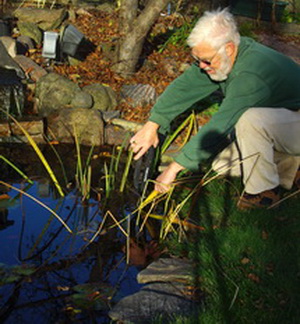 06 November 2011 The pond water is getting cold and the fish are becoming inactive. It's time to remove as much vegetation as possible so that it doesn't just sink to the bottom of the pond and add to the goo. This also makes skimming the falling leaves each day, much easier.


01 November 2011 It's a bit late in some parts of the country but I'm planting my bulbs this week. Tulips and Narcissus and Snowdrops and many other wonderful spring time treats will nestle into the still warm soil to get ready for a wonderful spring time display.


25 October 2011 We have this wonderful large Black Walnut tree that shades the patio and cools the house in the hot summer. Not all blessings are free. Some years it produces an excellent harvest of walnuts which are big, filthy and a pain to pick up. Every squirrel in the neighbourhood comes over for the banquet and the shredded walnut skins stain everything they touch.


17 October 2011 We've moved most of the plants indoors to join those that are permanent indoor plants. Now we have to adapt our watering techniques to the shorter days and drier heat We might also give many of the houseplants the last bit of fertilizer they will see until the spring.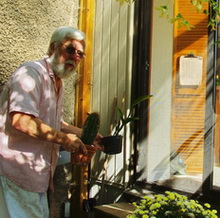 13 October 2011 The Hibiscus is looking a little apprehensive as the overnight temperatures start to drop. It is one of my part time houseplants and it's time to start moving them indoors for the winter.


09 October 2011 The stems have died down and our pot of Potatoes is looking sad but now we empty it out and find the amazing potato harvest.


04 October 2011 Compost is our magic ingredient and now is the time when I empty out what is left in my useable bin and turn over the current bin into the just emptied one. This gets that compost ready for next year and leaves me an empty bin to fill as I clean out the beds.


29 September 2011 Potatoes are one of those amazing treasures from the earth. Dig up the dead plants now and those wonderful rich tubers are a joy to find and eat.


26 September 2011 Just when you think that fresh flowers are done for the winter, these large pink Colchicum burst forth like magic to brighten the early fall days.


17 September 2011 Peonies rarely need transplanting but when the need arises allow considerable time to dig out their massive roots. Now is the time to tackle this big chore.


09 September 2011 Early in september is the time to take cuttings from Geraniums and Begonias or other plants that we want to overwinter.


05 September 2011 We are back home after a couple of weeks of travelling and are preparing ourselves to face the backlog of activities. Planting the Garlic cloves that will produce next summer's Garlic is a fun and easy task to ease us back into the routines.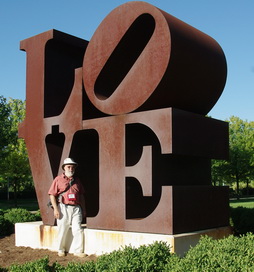 28 August 2011 Travelling to check out new gardens for you again. Fabulous garden around the Indianapolis Museum of Art. Gotta love this piece of art in the garden.


23 August 2011 It's time to dig up and enjoy the easiest thing I planted. Garlic is a wonderful and, at least to us, neccesary ingredient in every garden and kitchen.


17 August 2011 The wonderful old climbing Euonymus in front of the house is getting a bit robust and needs its annual trim.


12 August 2011 The lovely long trailing annuals like this Callibrochia will flower much better if given a bit of a haircut now.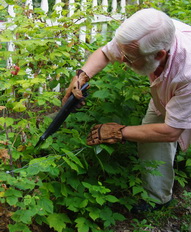 07 August 2011 The wonderful early summer Raspberries are sadly finished and it is time to prune out the old canes to get ready for next year.


02 August 2011 The first pole beans are ready to pick and we are looking forward to their easy addition to our menus.


24 July 2011 The Cucumbers are enjoying the heat and need a little training to find their way up their obelisk.


19 July 2011 In our little corner of the world it's so hot that only the shady parts of the garden are getting weeded.


15 July 2011 The Zucchini are ripening quickly and there are many delicious ways to prepare and eat them


12 July 2011 Most containers are planted in a soiless mix that has very little nutrient content and we must make sure to keep them well fertilized all summer to get the best results.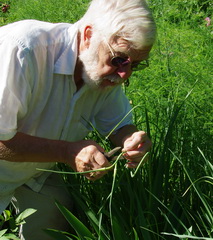 08 July 2011 Garlic scapes are a double delight. Their twisted and curled style can add greatly to a floral arangement and they are delicious chopped into a stir fry or salad. The bonus is the removal of any seeds that may become weedy in your garden.


05 July 2011 After several years of trying I now have a Clematis that is scrambling through my Crab Apple Tree but it needs a little encouragement to find its way.


02 July 2011 Some of our delightful Alliums need to be deadheaded to avoid having a garden filled with seedling Allium.


28 June 2011 The arrival of the Spuria Iris is a bittersweet time. They are wonderful to see but they signal the end of the Iris Season.




23 June 2011 I love my harlequin maple but it requires a little vigilant pruning to remove any shoots that revert back to plain green.


17 June 2011 The Potatoes in the containers are growing well and we need to keep adding new soil to fill up the pots.


13 June 2011 It is almost time to say goodbye to weeks of eating Asparagus and let the latest spears grow on into the large ferns that will regenerate the roots for next year.


09 June 2011 Every garden should have some mint in it but do keep it contained in a pot or other confined space or you will have a garden filled with mint.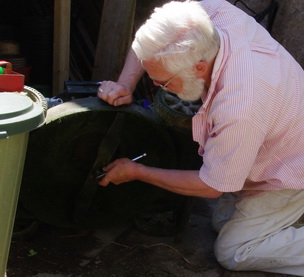 31 May 2011 An important but often neglected chore each spring is the maintenance and sharpening of our lawnmowers. A sharp blade on the popular rotary mower can make a big difference in the appearance of your lawn.


26 May 2011 The cold weather may be over and it is time to try all of the exciting new flowers and a few vegetables in your containers.


24 May 2011 The Tulips have been glorious this spring but we must make sure to deadhead them so they will regenerate strong bulbs for next spring.


19 May 2011 I like to start all my cucurbits like Cucumbers, melons and summer squash, indoors, a couple of weeks before they head to the garden.


16 May 2011 We are finally enjoying fresh Asparagus on a regular basis. A few warm days brings it along rapidly.


11 May 2011 It's nice that the warm weather has finally returned and brought the fish back to the surface of the pond, looking for food.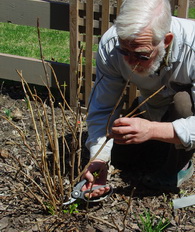 07 May 2011There are a great variety of Hydrangeas available and many of them need a spring pruning. Some to the ground and some to where the new shoots are developing


05 May 2011 Spring is great time to propagate many perennials such as Hosta; when they are just emerging from the soil and in an active growing phase


02 May 2011 Mulch can have many benefits and now is the time to top up the mulch on beds where it is doing a good job.


24 April 2011The slowly arriving warm weather has finally started the new growth on my Roses and now I can see where to prune them. Cut to an outward facing bud above 2 - 4 healthy growing buds and take out spindly canes altogether.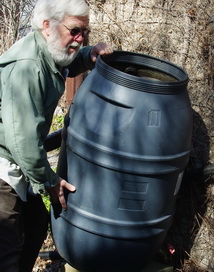 20 April 2011 It's time to start catching the best free gift available to gardeners. Set up as many rain barrels as your downspouts can fill.


15 April 2011 The Red Lily Bug has crawled out of the soil in my garden and the hunt is on. Watch emerging Lilies and Frittilarias.


12 April 2011 Another early job is cleaning out the ponds and I have discovered the Pond Shark a great new tool that makes that ugly job a lot easier.


06 April 2011 It's time to work on those outdoor chores that are not so weather related. I'm rebuilding a collapsed stone wall before planting season starts.